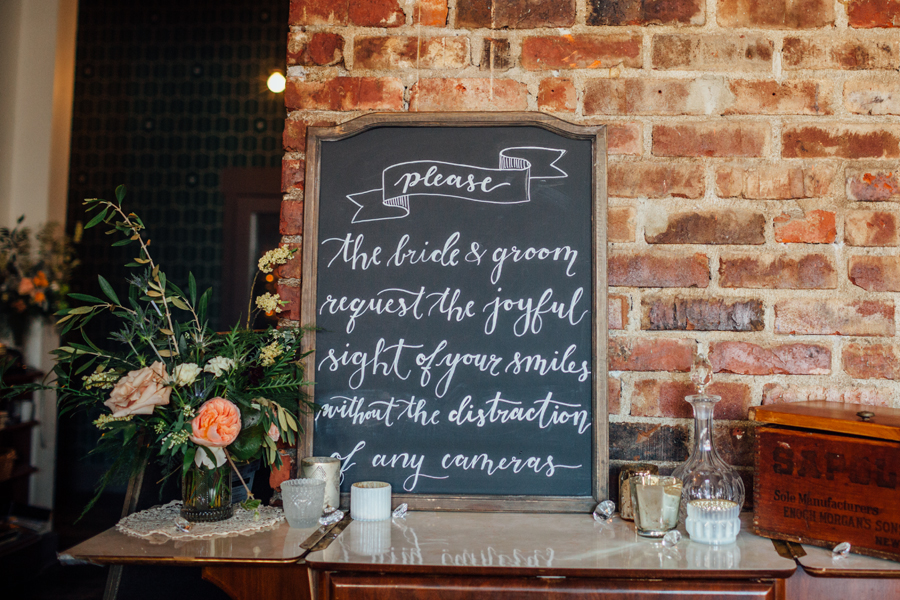 In my experience as a wedding photographer I've had the privilege to document and observe a wide variety of wedding days, and while there are countless details that make each wedding unique and personal there's one thing that universally can change the tone and enjoyment of your ceremony. Here are my top reasons for going with an 'unplugged wedding'.
1 – Your guests will be more present.
When you think back on your wedding ceremony you'll want to remember making eye contact with the people that are most important to you, sharing a smile with them as you stand at the front and perhaps even sharing the same tears. More and more often guests are viewing the entire ceremony through their iphones, ipads and cameras as they attempt to get the best photos of the wedding ceremony. In today's technological world there's entirely too little time that we spend completely in the moment and this is one of those events where you want to truly be present.
2 – Your wedding photos will benefit.
There's a few ways in which your wedding photos will benefit from going unplugged. First, during your recessional and processional your aisle will be flanked by the smiling faces of those who love you instead of smart devices and lenses. Second (and this is a big one) your photographer won't be fighting for the best spots to capture the key moments. I can't tell you how many times I've had a well intentioned guest step out into the aisle during the first kiss or back peddle with the couple during the recessional to get their own photo while making my ability to get the shot almost impossible. You've made the investment in a professional photographer to ensure you'll get the best possible images from the day – let your guests know they can take the ceremony 'off' from photo taking and leave the capturing to your trusted professionals.
3 – You get to control what images show up on social media.
With the connectivity of the world these days it's nice to be able to post the photos you're truly excited about from your wedding instead of having the first photos published be at the mercy of every smart device user in the room. While your friends and family are just excited and want to share how beautiful the day was, it's lovely to be able to announce to the larger world what your wedding day was like through the images that resonate with you the most.
If you want to have the wedding unplugged, but are uneasy about telling your guests to put their cameras down all together a nice compromise is to have the reception be a photo friendly zone. That way your guests get to snap some happy memories and you get to have the fully present ceremony you desire.
For some ideas on how to word your unplugged wedding wishes check out pinterest and etsy!